Links
These sites usually talk about other things besides music These sites mainly talk about music
Natural Teeth Porn
Monday, October 31, 2005
Halloween weekend was good. I attended five functions, all within a five hour period (thank you time change!). I wore the same costume as last year, but I added to it, so it was like it was brand new.

I've never had braces. All my teeth are natural. There might be some crooked teeth in my mouth, as well. I don't like my smile that much, so I rarely open it up for pictures. However, a certain someone has suggested I become a natural teeth model. This interests me a great deal. I like the idea of people looking at my teeth and becoming aroused. Wait. Did I just cross the line?

It reminds me of the time I had a date and the girl told me that her brother photographs male feet for a Web site. It was for people who get off on looking at guys' feet. She wanted to know if I wanted to be a model. She could hook me up. I said no, and I never did find out how much I'd get paid. Maybe I should have done it. I have nice looking feet. And perfect kneecaps. Yes, if there's a kneecap porn site, I'm going to be its next model.

Shout out: Visit Candy and Nuts' blog. Ask her about pool tables.
posted by pimplomat @ 10:00 AM

Crazy for Candy
Friday, October 28, 2005
Random bits:

1) My trip to Fort Lauderdale was cancelled due to the damage done by Hurricane Wilma. I really didn't want to go on this trip, and now that I'm not, I don't know what to do this weekend. I know it's Halloween weekend and there are all sorts of parties happening, but I don't know where to begin. I want to hit them all. I want to be Mr. Social Butterfly.

2) I received a fortune cookie the other day with no fortune in it. What does this tell me? It's kind of like the time I had a fortune cookie on my birthday, and the fortune inside said, "Keep smiling, things will be better."

3) My street will be overrun with children on Monday. Last year, my housemate and I ran out of our five bags of candy in 30 minutes. We had to start handing out granola bars and Mardi Gras beads. The beads made us popular. Finally, we had to shut down the lights and hide. This year, we've purchased at least 16 bags of candy. I will be buying more this weekend.

4) When the hell is Nada Surf going to come back to my town to perform?

5) Shout out to Ragna! Read her blog. More shout outs to come. Be patient.
posted by pimplomat @ 2:37 PM

I'm having trouble breathing
Sunday, October 23, 2005
Maybe I'm developing asthma. I woke up Sunday morning, and I was unable to breathe very well for at least three hours. Or maybe in the middle of the night, I had a malicious spirit sitting on my chest while I slept. Either way, my lungs don't work properly at the moment. If you have an extra pair of lungs around, please send them to me. My address is in the book.

Saturday night, my flatmate and I decided to have another party. We throw about three to four parties a year, all of them themed. This party was The Fantasy Party. Judging from guest comments, I believe it was a hit. I was able to see a lot of people I haven't seen in a long time, hang out with people I hang out with all the time, and meet cool, new people (hello Wee Demon!...everyone, check out her blog...it's on the right hand side of this page).

long_division is in town; however, she was unable to attend the party because her friend (who I dearly love and would have liked to have seen) doesn't like social functions. Yes, long_division, I'm calling you out on this. I tease because I love.

Earlier in the day, my dog was groomed. Her fantasy was to be a clean dog. Oh, look at her!




So, no one peed on the couch at this party. No one stole anything or got into a fight. And no one had sex in the bathroom that I'm aware of (though the lesbian brides were in there a long time).

I'm taking suggestions for the next theme.

I have an all-day seminar about copy editing today. What a time to be alive!
posted by pimplomat @ 11:13 PM

Tales of a lost cheeseburger and bloodkisses
Wednesday, October 19, 2005
This is how the trip to NYC went down.

Friday:

My plane leaves at 8:05 a.m. I wake up at 6:45 a.m. It takes me approximately 45 minutes to drive to the airport, so I wasn't going to be able to make that flight. I call ATA and reschedule for the 11:40 a.m. flight. They do and proceed to charge me an extra $350. I submit, though I'm not too happy about it. Thus, my spending money will be low for the weekend.

I finally arrive on the NYC streets around 7ish. long_division meets me and takes me to get some pizza. It was the size of my torso.




I eat, we leave and then go to meet my college friend at a bar. The beer was $10 for five bottles. We cleared out our buckets in no time.




We went to some other bar where a guy that sweats a lot sat very close to me and pushed me against the wall. It wasn't as sexy as it sounds.

Saturday:

I saw a lot of sites, such as Chinatown, the Statue of Liberty, Wall Street, etc., all the main tourist places. I even saw a guy with a cat on his head. A real, live cat. I love New York!




At night, long_division and I met some of her friends and another one of my college friends at the Remote Lounge. At this place, every table has a TV screen and a phone. You can browse the people at other tables and call them and try to pick them up. It was a slow night, so none of use got hit on. We then headed to another bar where we proceeded to play dominoes.




I asked a girl to dance at that place; I was turned down. I hate New York!

After that, we closed out another bar and didn't get home until 4:30 a.m. long_division was hungry and thought she left her cheeseburger in her apartment somewhere. It was lost. Oh wait. Maybe she lost her cheeseburger on Friday night. Well anyway, if anyone sees a lost cheeseburger wandering about, please send it to NYC c/o long_division.

Sunday:

We slept in and went to Central Park and Strawberry Fields. We watched street performers and received free juice and apples from someone promoting breast cancer awareness.

At night, we met my friend from Friday night and ate at a cool restaurant named Kenka. It offers $1.50 pints and bull penis to eat. I stuck with the pork dumplings. Also on the bill was free cotton candy. I'm back to loving New York!

All and all, it was a fun trip, and there is tons to do. I'll definitely go back. I didn't get to make out with any single girls; however, there's always next time (hellooooo Ashley!). I want to thank my friend Mike for footing the drink bill on Saturday and Sergi for footing the bill on Sunday. Without them, NYC would have been a dry, sober event for me and long_division.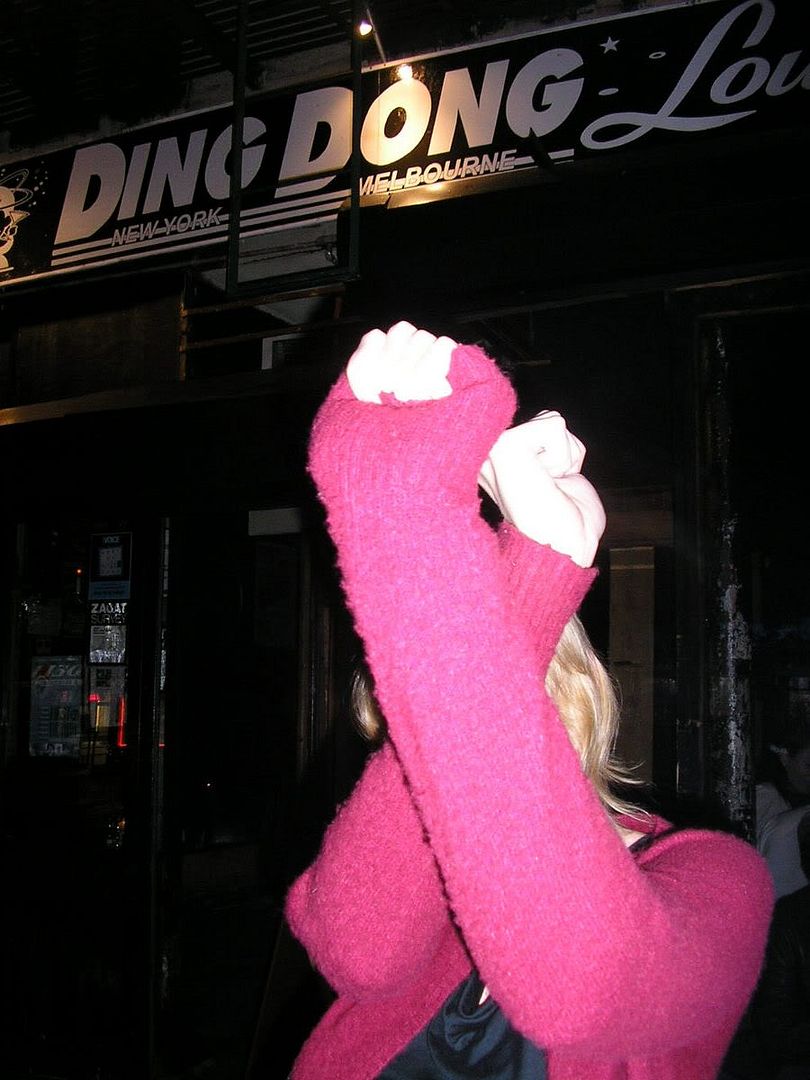 posted by pimplomat @ 3:41 PM

Single in the big city
Wednesday, October 12, 2005
I'll be in New York City in two days. I've only been once, for four hours. I don't think that officially counts as a visit to a city. That's like saying I'm still a virgin, though I've given oral sex to four people. Wait. Isn't that what people say nowadays? That reminds me, how many times does one have to have oral or anal sex before he or she is not longer considered a virgin?

Back to NYC...my last trip, I flew into Philadelphia for a trade show for work. I took the train to NYC, met my college friend at one of the stations, and he proceeded to give me a whirlwind tour of his newly adopted town. I walk fast, but he walks faster than me. Plus, while I was letting people by and not being rude, he was plowing right through them. He turned to me and said, "You can't be nice here to people on the street; just keep walking and pay no attention to them." We speed-walked through the East Village, Times Square and Soho.

I suspect this new trip will be more slow and more intense. I've told my guide what places I'd like to visit; however, I'm sure she'll find me some other cool things to check out, such as rats, dead people and fenceless roofs. I've been promised that there will be a lot of alcohol drinking and pimping me out. I'm single. I just want to make out with one single NYC girl before I come back home on Monday.

Wish me luck.
posted by pimplomat @ 12:30 PM

Reason to drink
Wednesday, October 05, 2005
I've been feeling a little sick lately, so last night at a concert, I decided to drink just water. Things happened, such as

1) I put $2 worth of change in the wrong meter. Luckily, I went back to my car for something and noticed my mistake, or else I would have received a dreaded parking ticket.

2) The venue charges $1 for water. WTF?! It's tap water, and not bottled water. I already think lowly of this venue, and now I think it's even lower than crap stuck to the bottom of a septic tank.

3) A girl was rushed from the front of the stage to the back of the venue due to, I'm guessing, heat stroke. The place wasn't sold out, and it surely wasn't that hot. Maybe she overdosed on something. I'm hoping it was candy corn. That shit will mess with you.

4) A guy being ejected for fighting. While nothing new, I like how he tried to start a fight with every person who crossed his eyeline as the staff pushed him outside.

5) People spending $15 to stand by the bar talking and not listening to the band. Once again, that hipster crap is not new, but it still always amazes me.

Maybe when I drink I don't notice or care about these things. Yep, chalk up another reason to drink!
posted by pimplomat @ 12:25 PM

I think Prince is courting me
Tuesday, October 04, 2005
The other night, my neighbor and I went to a bar for a few drinks. Somebody played "Purple Rain," by Prince. It's such a classic song. I immediately wanted to get up and dance with my neighbor, slowing dancing with my arms resting on her waist, our bodies at least a foot away from each other, feet barely shuffling along. The song brought up too many memories of awkward junior high and high school dances.

Alas, we did not dance. However, we did decide to keep drinking, taking ourselves down to our local bar to listen to the open mic proceedings. While there, someone decided to cover "Purple Rain."

Last night, at the bar, the familiar strains of "Purple Rain" came on again. Three times in one week. It's obviously a sign. (You can start making your Prince/The Sign jokes now).
posted by pimplomat @ 8:28 AM

About Me
Name: Pimplomat pimplomat
Home: Texas Dallas, TX
About Me:
See my complete profile
Previous Post
Archives
Template by
Other Things